Meet the Client
Multnomah University (MU) is a private, non-denominational Christian university located right across the bridge from us in Portland. Offering seminary, graduate, and online programs to just under 700 students last year—with a student to faculty ratio of just 11:1—MU provides an intimate teaching setting that allows professors more time to engage with each student. Proud of its rich history, the growing list of degrees and programs, and a commitment to each student's success, MU came to us to build and support a robust, modern website able to showcase the university's shining differentiators.
Kicking off the project
…and some (gentle) ridicule of higher ed sites
So, there's a problem with college websites. Blame it on the numerous stakeholders and department leaders, the handful of audiences with diverse interests, or just the sheer inherent bureaucracy of it all. Whatever it is, most higher ed sites are terrible. Unfocused walls of info, cluttered mega menus, page bloat, and content redundancies all result in a confounding user experience that lacks direction and conversions. Not to mention, as the site ages, foundational logic and good intentions quickly go out the window as IT departments are forced to continually update and maintain the websites as they are peppered with emails leading with "We need this on the website now!".
There's a better way. We set up higher ed clients with the architecture and tools to avoid the Frankenstein, add-on approach so many .edu's fall into. It's a wonderful moment when a client realizes they can use the site to attract prospective students while also catering to the diverse needs of current students, departments, faculty, parents, and alumni.
Focusing on prospective students
Intuitive, compelling university websites are an extremely valuable sales and marketing tool for enrollment teams. From curious high school graduates to seasoned potential transfers and graduate students, the website needs to balance a guided journey with a sense of exploration. Prospective students are led through a guided conversion path while still allowing branching paths as they learn about MU's culture, opportunities, and the surrounding Portland area. As their research continues, we reconnect to them to the main flow, never allowing a prospective student to reach a digital dead-end.
But what about everyone else using the website?
Ha, it's almost like we'd need to repeat our entire strategy process for each key persona and make sure everyone from current students and faculty to alumni and parents are getting their needs met as well. So, that's what we did.
As a result, and after many meetings with department stakeholders to explain our new structure (remember the bureaucracy?), we emerged from our research and strategy phase armed with targeted information architecture, content priorities for key pages, and a detailed list of essential content/functionality blocks to meet our ambitious goals for each audience.
Content complexities
University websites have a lot of content. What do we retain? What do we eliminate? How do we consolidate and rewrite content to be more engaging and intuitive? While new site architecture and planning for content challenges can help, our expertise can only take us so far. We brought long lists of suggestions to MU's marketing team and over bagels and whiteboards, we determined what content to showcase. This collaboration sets the stage for not only a targeted content blueprint for writers but also equips our designers with all the information they need to explore captivating layouts.
Running with a rebrand
While we worked on content and structure, MU embarked on an aggressive brand reputation overhaul with a renowned branding agency in the higher education market. MU even let us participate with them in the two-day organizational personality workshop to ensure both agencies we're aligned with the new direction going forward. This level of engagement and collaboration from all teams produced a refined brand consistency able to be replicated across the website and all marketing materials.
University IT departments love us
Your typical higher ed website is a tangled mess of plugins, integrations, and features—all stacked on top of each other, year after year. On a good day, the hodgepodge of site functionality will only confuse and frustrate users. On a bad day, one of these disparate systems crashes the entire site and IT scrambles to find the culprit. Our developers audit current integrations, examine proposed solutions and ideas from the design, and finalize functionality recommendations. From course catalogs and student accounts to various resource hubs and APIs, our development team ensures that not only does every system play nice with each other but also seamlessly integrates into the site design and site-speed expectations.
Backend flexibility
Any higher ed marketing department will tell you they spend far too much time keeping information on the website current as easy to find. Dates, deadlines, procedures, updates—the level of information students require is immense and constantly changing. We give marketers the tools to streamline and govern content updates. Change the date for an application? Well, it dynamically updates throughout the site. Looking to keep content fresh? Approve page updates, blogs, or any additions from your team easily with our content governance system.
The Result: In the client's words
"My team partnered with Gravitate to create a brand new website for the university. University sites are complex and quite a large feat. The Gravitate team was extremely attentive, knowledgeable, and adaptive in their collaboration throughout the strategy, design, and development process. Their expertise led to valuable UX, clear navigation and functionality, and ease for my team to be able to design pages and manage content updates after launch."
Alyssa Trulen
Former MU Marketing Lead
Ongoing support
With a streamlined website in place, the doors to customization and optimization are wide open. From tailoring landing pages to support marketing campaigns to addressing complex technical SEO issues, the team is enabled–nay, empowered–to let the site work for them. Campaigns are goal-oriented, with measurable success metrics, tracked accurately thanks to the new site. While SEO and advertising work is never finished, there's definitely a tangible shift from passable quality to excellence on the account as a whole.
"We had a blast partnering with the MU team. They were enthusiastic, receptive, and gave thoughtful feedback. A big undertaking of the redesign project was its content strategy, and our teams walked in stride carefully considering user behavior and the story of what it meant to be part of the Multnomah community."
"While planning, we must have looked at a thousand university websites. As our list of must-have features grew, we began to notice trends that directly shaped much of our information architecture and page elements. It kind of sounded like, "Hey, let's rework that one nav element from the music school in Indiana we liked, remember? But let's combine that with those flexible landing page blocks from Brown so users aren't stuck." "
"Continuously working with the MU team to support their marketing efforts is such a pleasant, organized experience, thanks to the tireless work of our web project team. The site is a clear road map, instead of a confusing maze, which enables the most efficient path for SEO and SEM optimizations to follow. And, most importantly, the client is happily integrated into the entire process."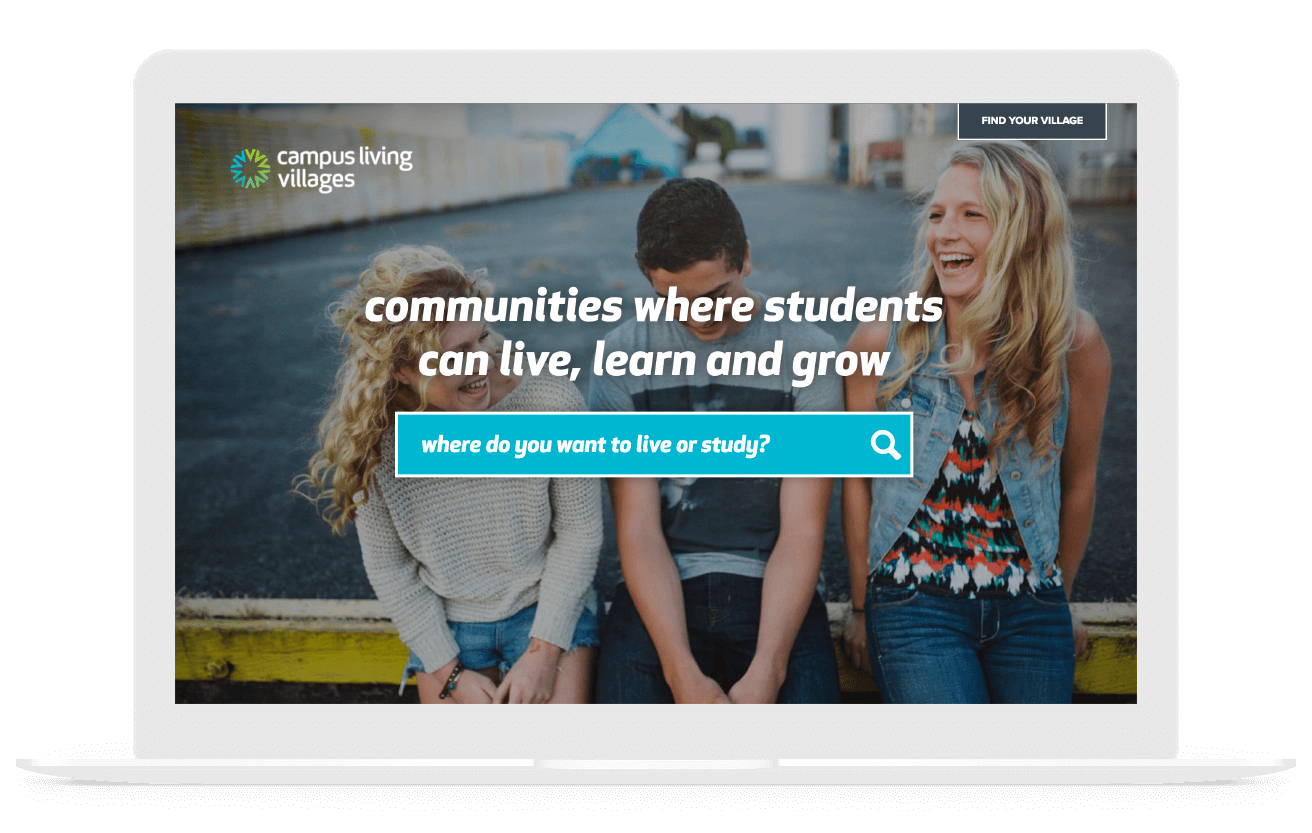 Campus Living Villages
Redefining the Digital Experience for Student Housing
It was an ambitious digital rebranding requiring rich expertise in content strategy, an intensely collaborative client-agency partnership, and a flexible content management system to empower team members across the globe.
Case Study
Ready to Get Started?
Ready to start a project or really curious about our process? Drop us a note or give us a call 888-217-9502; we're happy to answer all your questions.
Work With Us